Clean Production Action December Newsletter
12/23/2016 Clean Production Action Bulletins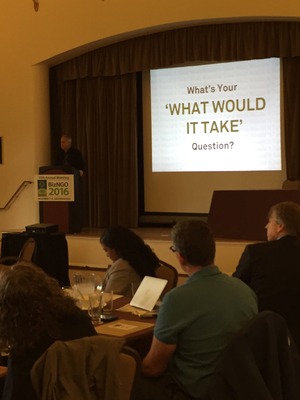 Thank you for being part of the Clean Production Action community! In 2016 we:
released the first annual Chemical Footprint Project™ report with the support of investors, purchasers, and leading brands;

deepened GreenScreen®'s integration into the apparel, electronics, and building sectors;
trained over 900 people in how to identify inherently safer chemicals; and
hosted the 11th annual BizNGO conference with a diversity of stakeholders sharing their strategies, successes, and challenges on the path to safer and healthy products.
Looking forward to working with you in 2017!

Happy Holidays,




Mark S. Rossi, Executive Director
---
---

Upcoming Webinars

Chemical Footprint Project: Advanced Webinar for Companies Responding to the 2016 Survey

January 10, 2017 @ 12:00 PM ET

Join the creators of the Chemical Footprint Project Survey for a webinar designed exclusively for 2016 Survey Responders. This webinar assumes basic knowledge of the CFP Survey. While some of the material to be presented has been covered elsewhere, this webinar will focus on common mistakes and questions received from Responders. Time will be set aside for live audience questions and answers. Participants will by default be anonymous.

We invite you to submit your questions in advance to cheri@cleanproduction.org.

Learn more & register here.


Chemical Transparency: The Value of Ingredient Disclosure

January 10, 2017 @ 2:00 PM ET

There is paramount need for optimizing design and manufacturing that will result in healthier materials and products. Chemical transparency throughout supply chains is a critical link to realizing this change. Our guest speakers are recognized industry leaders who will share real world examples to illustrate the value of change.

Learn more & register here.


"Who's Minding the Store?" Retailer Report Card

January 18, 2017 @ 1:00 PM ET

The Mind the Store campaign recently released "Who's Minding the Store? A Report Card on Retailer Actions to Eliminate Toxic Chemicals," the first major evaluation of the United States' largest retailers' safer chemicals programs.

CPA will host a Mind the Store webinar to take a deep dive into the methodology for the report card, the 13 categories of criteria behind the scores, how the report card criteria align with the Chemical Footprint Project, and how retailers scored.

Learn more & register here.


The Chemical Footprint Project Investor Briefing

January 26, 2017 @ 11 AM ET

Join the co-founder of the Chemical Footprint Project and investors supporting the project as they discuss the value of responding to the CFP Survey. Presentations will cover the development of the survey, the value proposition for investors and companies, and progress made in the first annual report. Discussion will follow about how investors can support the Chemical Footprint Project and use the survey in their investment decisions and engagement with companies.

This webinar is hosted by the PRI and organized by Trillium Asset Management.

Learn more & register here.

---

BizNGO 2016: Engaged Stakeholder Leaders in Measuring Progress to Safer Chemicals

Over 100 participants from business, NGOs, health care, investment firms, government, and academia attended the 11th Annual BizNGO Meeting in San Francisco on December 7 – 8, 2016. Keynote speakers included Joel Makower, Executive Editor of GreenBiz; Martin Mulvihill, Co-founder and Partner, SaferMade; and Gregg Renfrew, Founder and CEO of Beautycounter. Panels explored pain points, metrics, and communication related to the process of shifting to the use of safer chemicals.

Check out the highlights from BizNGO 2016.

---

Chemical Footprint Project Attracts Major Industry Support

CVS Health, Vizient, Inc., and the Rhode Island Treasury Sign on

Clean Production Action is pleased to announce three new Signatories to the Chemical Footprint Project: CVS Health, Vizient, Inc., and the Rhode Island Treasury. Increasingly, businesses, governments, investors, retailers, and purchasers are recognizing the potential for adverse effects caused by exposure to hazardous chemicals on human health and the environment. Looking to better understand where companies are on their journey to safer chemicals in products and supply chains, CVS Health, Vizient, Inc., and the State of Rhode Island signed on to the Chemical Footprint Project.

Read the press release here.


Chemical Footprint Project Hosts Workshop in San Francisco

Thank you to all who participated in our debut workshop entitled Assessing your Chemical Footprint, held on December 6 in San Francisco. The purpose of the workshop was for participants to learn strategies to implement proactive chemicals management in their organizations using the Chemical Footprint Project as a framework and metric for assessment and continual improvement. The workshop was a great success, attended by twenty highly engaged individuals from business and non-profit organizations. The interactive exercises and discussions were valuable for participants and instructors alike. If you were unable to attend the workshop live, watch for the release of a virtual course on the same content to be delivered in a series of webinars in 2017.

Here is what our participants had to say:

"The best venue for open sharing of ideas & challenges on the journey for safer chemicals."

"Fantastic training from leading experts on safer chemicals management strategies and best practices! Essential!"

---

GreenScreen in the News

Walmart Recommends GreenScreen List TranslatorTM as part of Sustainable Packaging Playbook

In support of the zero waste goal it set earlier this year, Walmart recently unveiled its Sustainable Packaging Playbook, a collection of best practices for suppliers and customers focused on sourcing sustainably, optimizing design and increasing recycling. To enhance material health, Walmart asks suppliers to identify priority chemicals in packaging and take efforts to remove, reduce, or restrict such substances. Walmart defines priority chemicals based on Article 57 of the EU REACH regulation -- substances which are carcinogenic, mutagenic, or reproductive toxicants; persistent, bioaccumulative and toxic; or where hazard data indicate an equivalent level of concern. To help implement this process of identifying and removing high hazard chemicals, Walmart points to tools such as GreenScreen List Translator, which has been automated in the Healthy Building Network's Pharos database and by Toxnot.com. Because the GreenScreen List Translator scoring criteria are based on REACH as well, the automation provides an efficient way for suppliers to screen and flag chemicals with such characteristics and incorporate this information into chemical management planning.


Collaboration of Coming Clean Scientists Adapt GreenScreen for Evaluating Nanomaterial Hazards

As part of a Coming Clean collaboration, Dr. Jennifer Sass and Nina Hwang of Natural Resources Defense Council and Dr. Lauren Heine of Northwest Green Chemistry recently published their findings on nanosilver hazards in the peer-reviewed journal Environmental Health. Nanomaterials such as nanosilver are of special concern due to their small size (1–100 nm, on the scale of viruses and DNA) and large surface area to mass ratio. The latter provides increased surface area for chemical interactions and thus can enhance reactivity, while the former can facilitate wide penetration throughout the body, into organs including the brain and across the placental barrier into fetal circulation. Using an adapted version of GreenScreen® for Safer Chemicals, the researchers evaluated a silica-silver nanocomposite called AGS-20, as well as low-soluble nanosilver and conventional silver. Conventional silver and low-soluble nanosilver were assigned the highest possible hazard score, while AGS-20 could not be scored due to data gaps. Presence of data gaps is of concern since AGS-20 has been approved for use as antimicrobials by the US Environmental Protection Agency. Differences in data gaps and in hazard characteristics indicate each silver form should be considered unique and subjected to separate hazard assessment to appropriately inform chemical selection decision. The researchers highlight a critical limitation is lack of nano-specific hazard data; however, where data are available, the researchers were able to demonstrate that existing hazard assessment systems can be effective tools for such evaluations.


California Department of Toxic Substances Control Releases Draft Alternatives Analysis Guide

The California Department of Toxic Substances Control recently released its Draft Alternatives Analysis Guide in support of its Safer Consumer Products (SCP) Program. The SCP Program requires organizations to undertake alternatives analyses to identify safer replacements for chemicals of concern being used in products sold in the state. The Guide is intended to help organizations navigate the SCP Alternatives Analysis process and includes GreenScreen for Safer Chemicals as a key tool to aid in the evaluation of potential alternatives and avoid regrettable substitutions. Stakeholders can provide comments on the Draft Guide until January 20, 2017 and the Department is holding a webinar to present and discuss the Draft Guide on January 10, 2017. ​